Transitional Kindergarten/Kindergarten Information
Your child is about to embark on an education journey...
Sioux Center Christian School provides a high-quality education that is rooted in Christ and grounded in His Word, giving your child a firm foundation for life.
Our faculty and staff love the Lord and we love our calling to teach and serve God's precious children!
Your child will be
TREASURED
as God's unique design with a one-of-a-kind role in His Story.
TRAINED
in the deep soil of God's Word and in the wonder of His creation.
TRANSFORMED
by the truth and grace revealed in learning and living God's Story.
We invite your child to Round Up...

Thursday, March 21 and Friday, March 22, 2019
The Round Up Info sheet (see right) has a form at the bottom that we would like you to complete, so we have your child's basic information for Round Up. Please return the form to the SCCS office.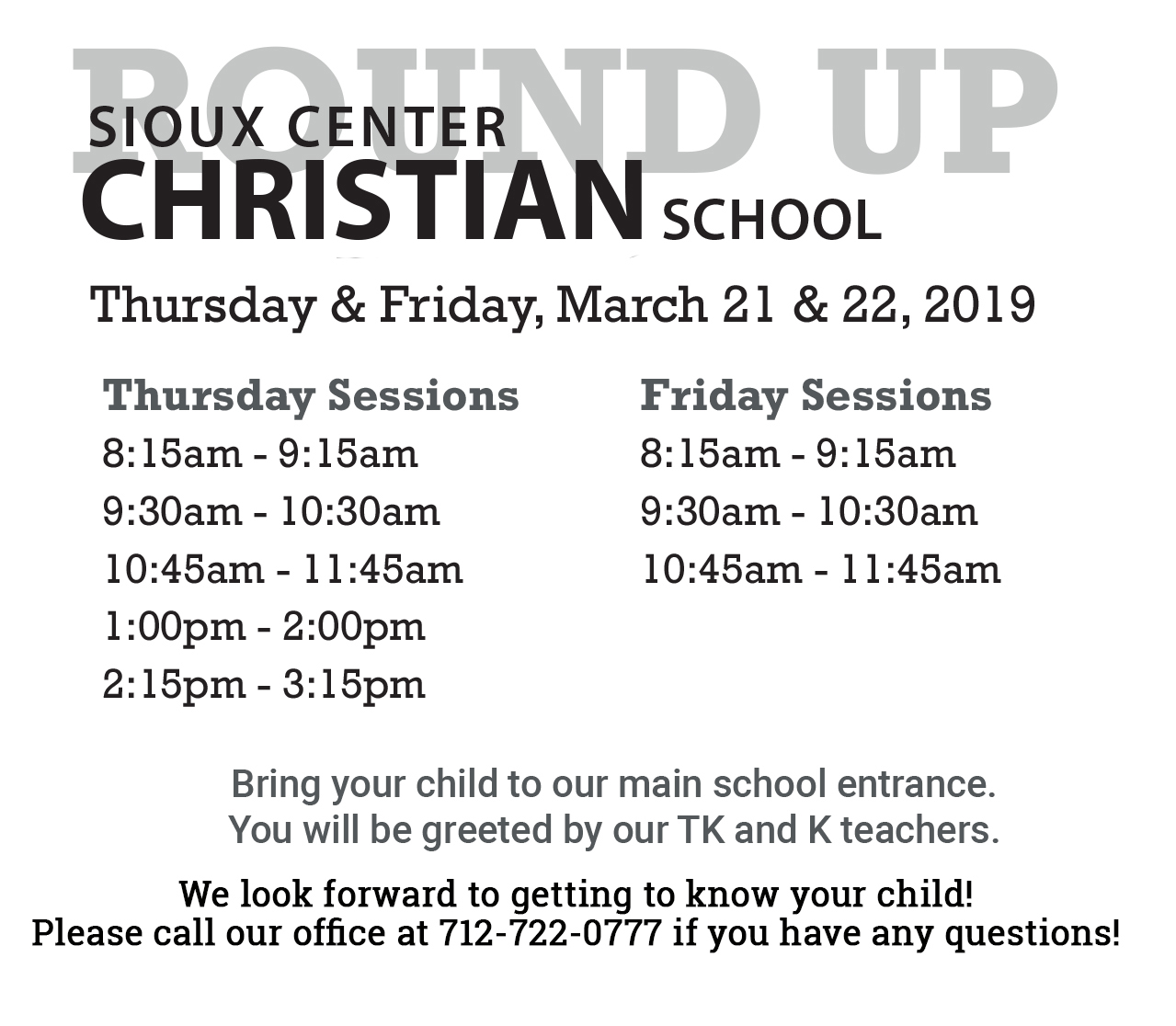 You are welcome to call the school office at 712-722-0777 between 8am-4pm M-F, starting Friday, Feb. 22, to schedule your child's Round Up session.

Don't hesitate to call our office if you have any questions!
What is transitional kindergarten (TK)?
TK is a program that readies a child for a full-day Kindergarten experience. Through engaging and active learning, students discover the wonder of God's world and practice the skills that are essential to their academic journey. TK provides the gift of time for a child to:
absorb what is being taught and express their own ideas
learn more about building friendships
develop independence
examine the world around them and be engaged in God's world
grow in confidence and maturity
develop early skills in gross and fine motor abilities, language, literacy, and math
prepare academically and socially for kindergarten
TK meets from 8:00-11:00 AM or 12:00-3:05 PM Monday-Thursday (2:05 PM dismissal on Wednesdays).
A child must be 5 years old by September 15 to enroll in TK.
What is kindergarten (K)?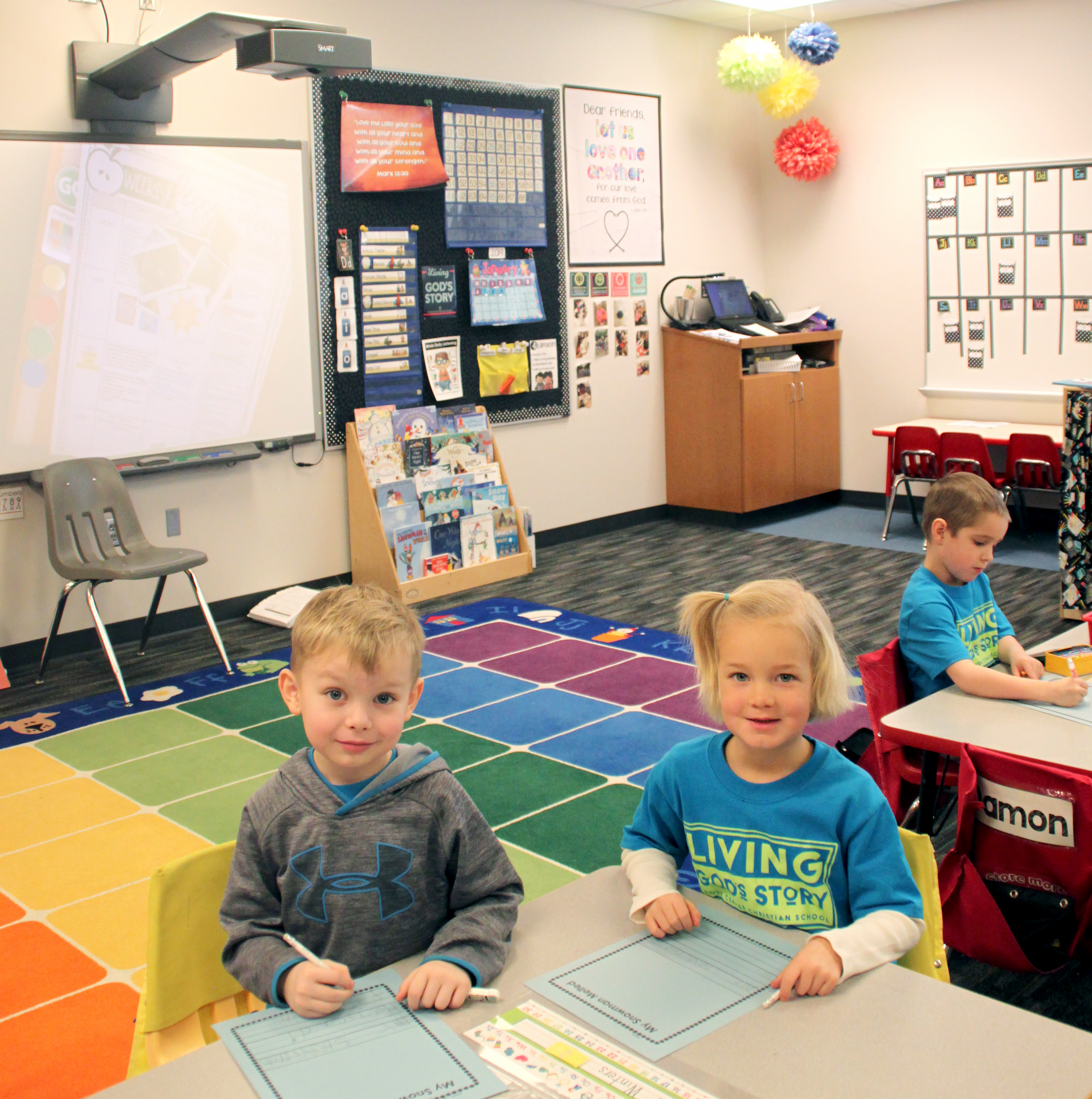 Kindergarten is an exciting step into the world of full-day Christian education. Through intriguing classroom activities, your child will gain knowledge, confidence, and an appreciation of God's sovereignty in all they learn. Kindergarten lays the foundation for learning by:
providing hands-on experiences that engage each sense God has provided
immersing them in reading and writing through enjoyable and level-appropriate books and activities
working in a classroom environment that encourages listening, sharing, kindness, and respect
revealing God's order and design in every area they study - from decoding words to animals to Bible lessons to art projects and music
Kindergarten meets from 8:00AM-3:05 PM Monday-Thursday (2:05 PM dismissal on Wednesdays).
A child must be 5 years old by September 15 to enroll in K.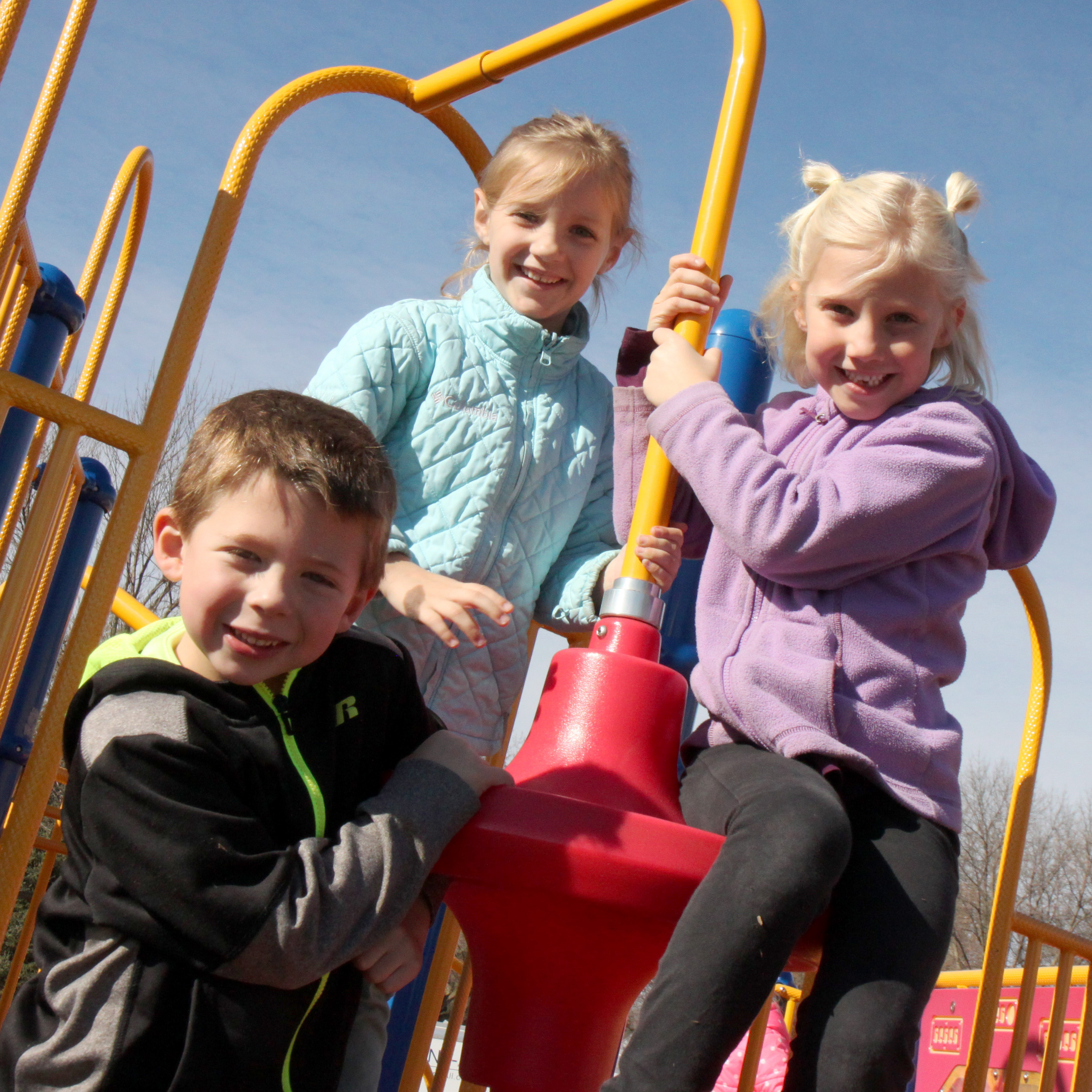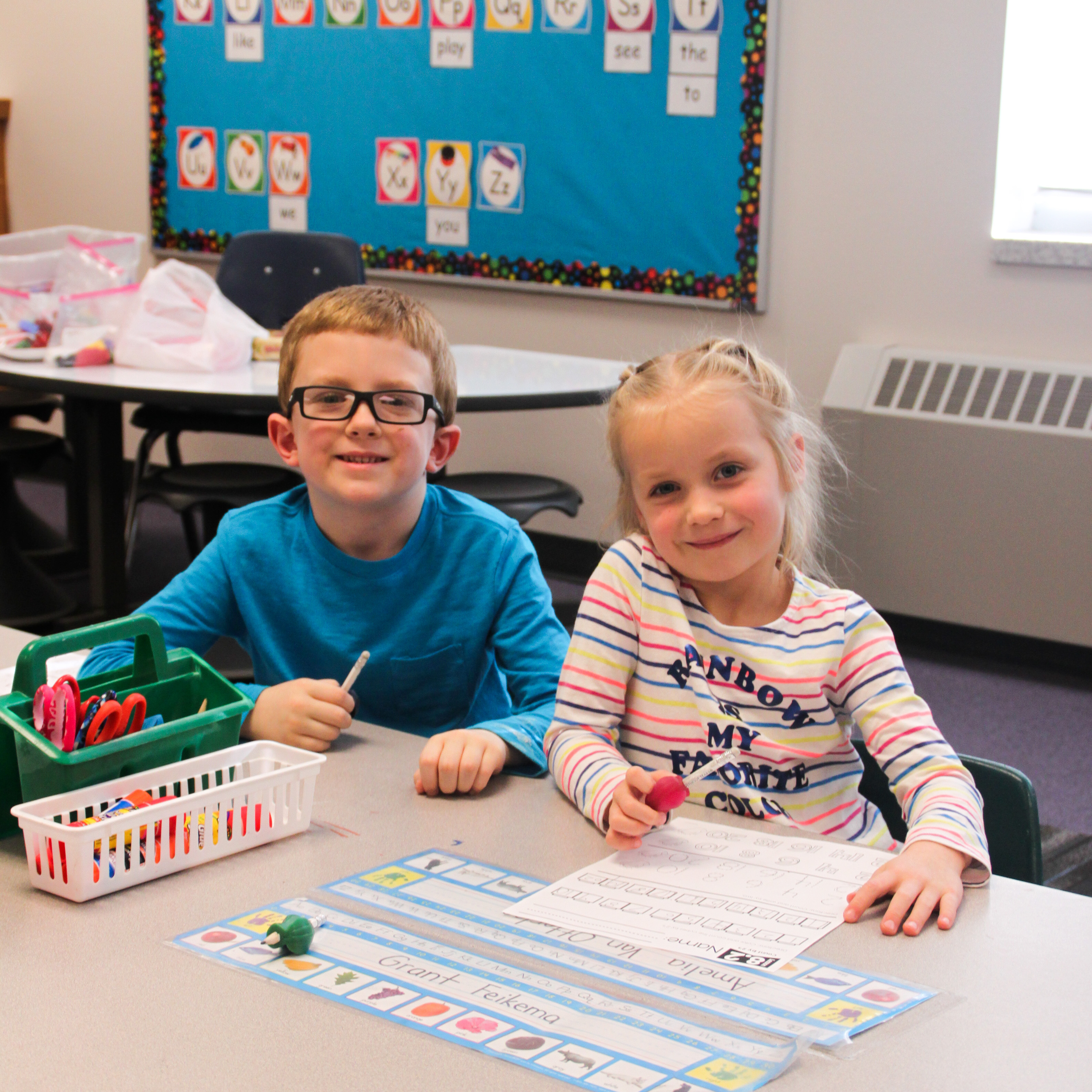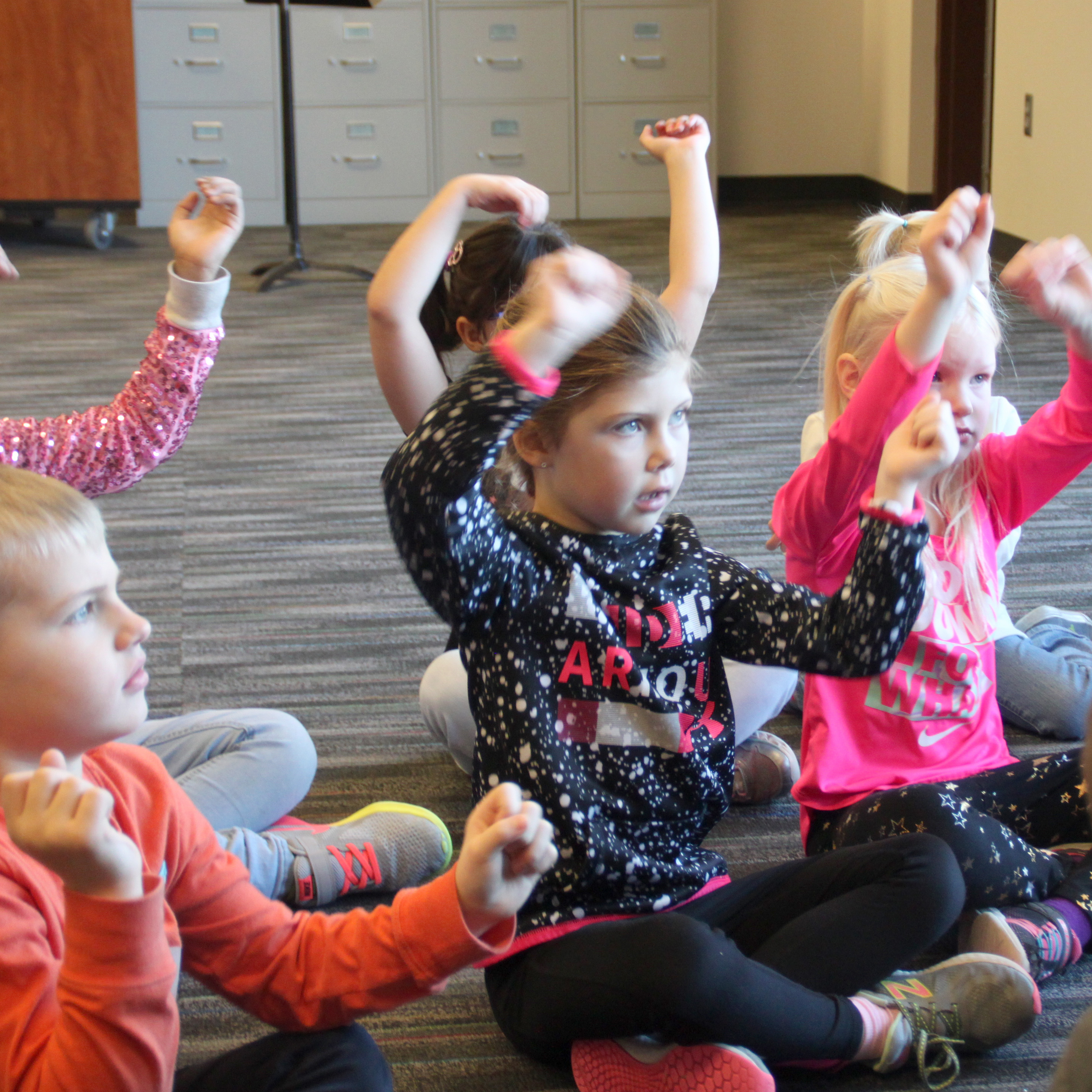 Did You Know?

Our transitional kindergarten students attend school Monday-Thursday for a morning or afternoon session.
Kindergarten students attend school all day Monday-Thursday.
TK/K Brochure

Check out the TK/K brochure by clicking here.
Click here for Round Up information for the 2019-20 School Year.
Parent Night is Thursday, Feb. 21, 2019 @ 6:30pm
Round-Up is Thursday & Friday, March 21 & 22, 2019
Details about Parent Night and Round Up are on the brochure and info sheet links!
Call our school office if you would like printed copies of the info or if you have any questions!
School Brochure
Click here for the Sioux Center Christian School brochure.