NICSTO
NOTE: As of December 6, 2021 we have reached our FULL GOAL for NICSTO and can no longer take contributions.
THANK YOU to all who gave this year to help provide tuition grants for our students!
In January, we will update this page with the new contribution form and share our goal for 2022 (the state of Iowa will be allowing us a 20% increase!)
---
Donating to NICSTO is the way
to make this incredible giving opportunity happen!
BIG NEWS!
In June 2021, the Iowa legislature increased the 2021 (and future years) STO tax credit to 75% (it has been 65% for several years).
It's even more beneficial for you to give to NICSTO, since you will receive 75% of your donation back as an Iowa income tax credit!
Scroll to the bottom of this page for general illustrations of possible tax outcomes
for individuals and businesses.
---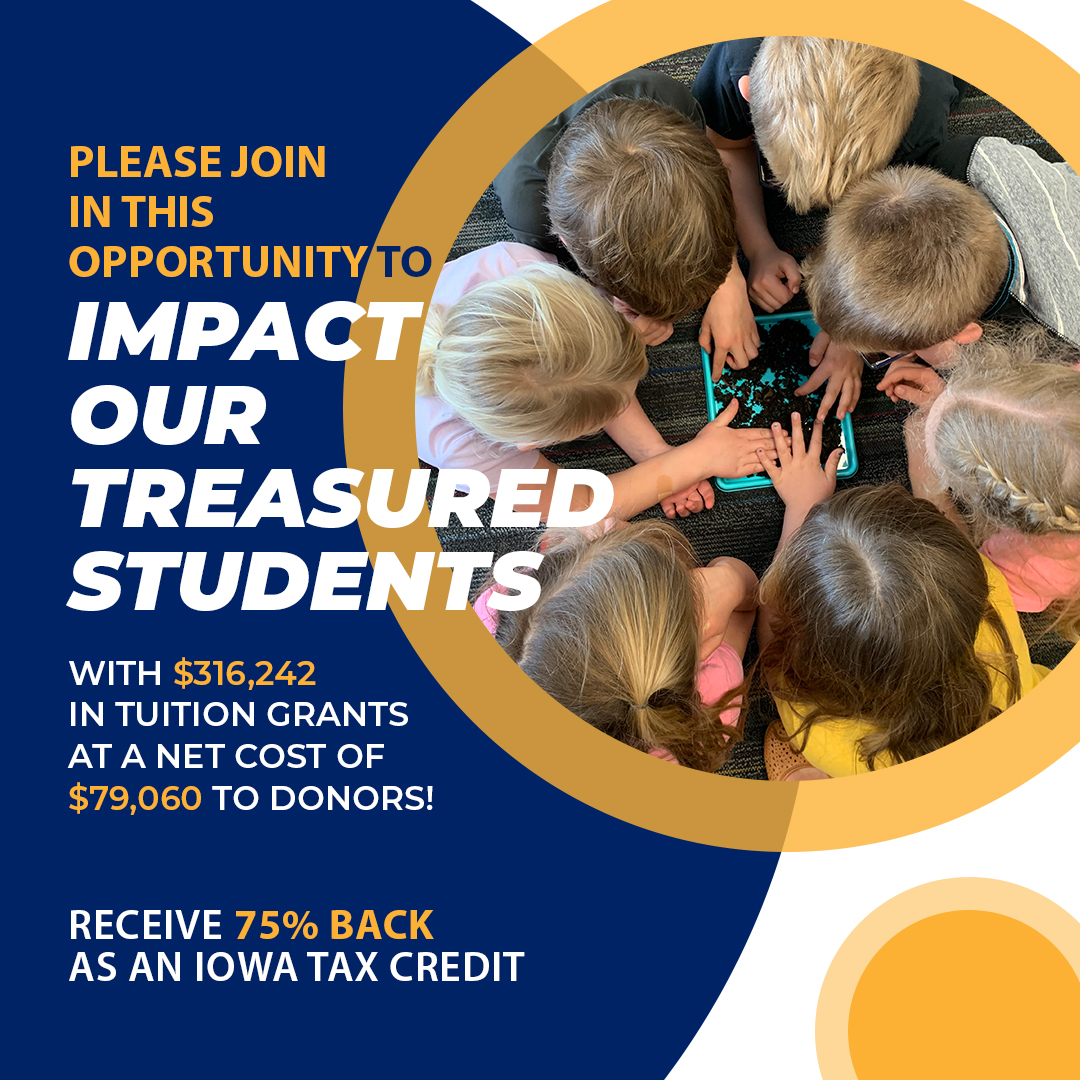 NICSTO (Northwest Iowa Christian School Tuition Organization) is a School Tuition Organization (STO) that the state of Iowa allows to receive donations which are directed back to the school of your choice as Tuition Assistance grants for families who qualify.
In the 2020-21 school year, 120 SCCS families
(267 of our 515 total students...52%!)
received a total of $224,807 in tuition grants.
For 2021, NICSTO has set Sioux Center Christian School's
contribution goal at $316,242.
This is an opportunity to impact our treasured students with $316,242 in tuition grants at a net cost of $79,060 to donors!
We need you to help us reach this goal!
Why not give a gift that directly impacts God's kids instead of paying taxes next April?
A gift of $1,000 to NICSTO will bring you a $750 Iowa tax credit certificate,
making the net cost of your gift $250!
Sioux Center Christian will receive $1,000
and will grant it to our students who qualify.

---
You may give any donation amount (no minimum or maximum).
You may donate CASH, GIFTS in KIND of grain, appreciated STOCK, and bonds.
You may donate from your IRA (including your RMD).
In January 2022, you will receive an Iowa Tax Credit Certificate, valued at 75% of your donation.
Include the certificate with your completed Iowa income tax form
and the amount is taken directly off the amount you owe in Iowa state taxes.
If you itemize on your federal tax return, you may be able to deduct 25% of your donation as a charitable contribution
If your tax credit certificate exceeds your 2021 tax liability, the excess may be credited to your tax liability
for up to the following five tax years or until depleted, whichever comes first.
---
If you're an Iowa taxpayer
interested in a state income tax credit,
(Forms are also available at the school office)
Please visit with your tax professional for specific tax implications and advice
on how to best enjoy the donation opportunities of NICSTO.
Please send in or drop off donations by December 30, 2021.
We are no longer accepting contributions for 2021, but come back in 2022!
If you have questions, please contact
Amy Vander Berg, Director of Development & Promotions. 712-722-0777x3.
---
Tuition Grant opportunity for SCCS families...
SCCS families/guardians may apply for NICSTO tuition grants if their household income does not exceed four times the federal poverty guideline.
---
Schools in NICSTO:
Clearlake Classical Academy
Hull Christian School
Hull Protestant Reformed School
Inwood Christian School
Ireton Christian School
Netherlands Ref. Christian School
North Iowa Christian School
Orange City Christian School
Rock Valley Christian School
Sanborn Christian School
Sheldon Christian School
Sioux Center Christian School
Siouxland Christian School
Unity Christian High School
Western Christian High School